Quality Over Quantity
We Do It Right The First Time
We've all run into doctors who seem to always be in a hurry. They can't stop and take the time to make sure your needs are being met because they're afraid they'll miss out on that next big case. At Hensley DDS, we think dental care should be a careful, deliberate process that meets all your needs, not done so quickly that you don't know what happened.
We use a unique, multifaceted approach to ensure that our customers are put first, no matter what. When we opened 30 years ago, we believed in providing quality customer service to meet your family's needs, and we still do today. We're your dentist yesterday, today and tomorrow.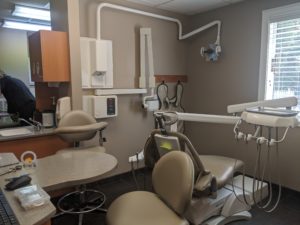 Panoramic Xray Technology
Save yourself a trip to little rock
We know there are many reasons why you need to make a long trip to our capital city, but getting high-quality digital xrays is not one of them!
Our office is fully equipped with modern Xray technology, including 360 degree panoramic xrays, intra oral cameras and digital sensors.
Relax in comfort
Our spacious office has plenty of parking
Do you need to step up to an executive-level luxury waiting room, with free guest wifi, bottled water and complimentary hand-santizer? We spare no expense for our honored guests and families who may need to wait while your dental procedure is carried out. Our office is easily accessible right off the main road, with easy to spot signage and wide parking spaces.